Learn more details about Caliber's hospitality Qualified Opportunity Zone project below.
Caliber – The Wealth Development Company – completed the reconstruction and officially opened its DoubleTree by Hilton Tucson Downtown hotel asset in Tucson, Arizona.
It's the first and only hotel connected to the Tucson Convention Center.
The 104,316 square-foot hotel includes 170 rooms, four private suites and one executive suite. It features several amenities including a second-story pool and bar, an onsite restaurant – El Mezquite Grill & Taqueria, a coffee bar, and 4,000 square feet of meeting space. 
As the first Opportunity Zone project in Arizona for Caliber, the hotel was first purchased in 2018 and Caliber construction broke ground in May 2019. The property is owned by Caliber, and managed by Highgate Real Estate Investment & Hospitality Management.
Social Impact: DoubleTree by Hilton Tucson Downtown
The new convention center hotel that was recently constructed in the Rio Nuevo District, has already created significant economic benefits. 
The project has provided approximately 210 direct and indirect construction-related jobs. The hotel, lobby bar, and restaurant, as well as surrounding businesses, will directly support about 134 additional jobs.
These economic impacts are anticipated to benefit this community for many years to come as corporations, businesses, and specialized groups host their conferences and networking events in beautiful, downtown Tucson.
"This is a major development that was part one of our Opportunity Zones," says Chris Loeffler, Co-Founder and CEO of Caliber. "As one of the top Opportunity Zone sponsors in the country, we are happy with the quality of this project, especially in the current environment. These funds are structured to attract high-net-worth investors while simultaneously invigorating targeted neighborhoods."
A Hot Tucson Market
With a population of 545,987+ people and an average age of 33.5 years old, Tucson just made sense for Caliber's first Opportunity Zone project.
Tucson's economy employs 249k+ people. Its largest industries include:
Health Care & Social Assistance (33,532 people)
Accommodation & Food Services (28,936 people)
Retail Trade (28,580 people)
Its highest paying industries include:
Mining, Quarrying, & Oil & Gas Extraction ($61,118)
Utilities ($55,581)
Agriculture, Forestry, Fishing & Hunting ($50,356)
Pre-pandemic, Arizona would receive around 43.9 million overnight visitors annually, bringing in $22.7 billion in direct spending too. Arizona's economy thrives on economic development from the travel and tourism sector. 
Additionally, Tucson was one of the leaders in U.S. growth in RevPAR (revenue per available room), posting a 13.5 increase from 2017 to 2018.
Post-pandemic, the hospitality industry is still recovering from the economic downturn during the Covid-19 pandemic. As many people across the country faced the reality of a highly contagious virus, many chose to remain at home and to avoid traveling as much as possible.
Additionally, the travel industry faced significant headwinds when many people across the country lost their jobs, forcing them to delay any travel plans due to their uncertain economic futures.
Now, Tucson hotels and resorts are at their busiest since the start of the pandemic.
Visit Tucson, a regional publication, said that February 2021 was the first time hotels had surpassed their 50% occupancy rate in the past year. Some hotels in the area have received a surge of over 80% occupancy rate since easing lockdown restrictions extended across the state and more of the population was vaccinated. This trend should continue to grow as vaccine hesitancy resides and communities across the U.S. are able to gain more control over the virus.
If the momentum continues, this could potentially bode well for the DoubleTree by Hilton Tucson Downtown and its economic prospects as events, conferences, special groups/interests, spring breakers, family gatherings, and more return to normal.  
The hotel is in the heart of downtown and surrounded by many great places to eat, shop, hike, and more. It's directly adjacent to the Tucson Convention Center. The area attracts 500,000+ visitors per year and is home to the Tucson Roadrunners Hockey team as well as the world-renowned Tucson Gem and Mineral Show.
"Being able to see this beautiful building, that will serve the residents of the city of Tucson so well, that celebrates who we are," said the Mayor of Tucson, Regina Romero. "It intertwines special details in its walls and in all its spaces. It really does tell the story of Tucson and how unique we are as a community" she continued.
DoubleTree by Hilton Tucson Downtown Performance
Key metrics on the property include:
$39.5 total price
8.5% cap rate on the cost
$55.5 million recent appraised value
Opportunity Zone Qualified
16-months construction timeline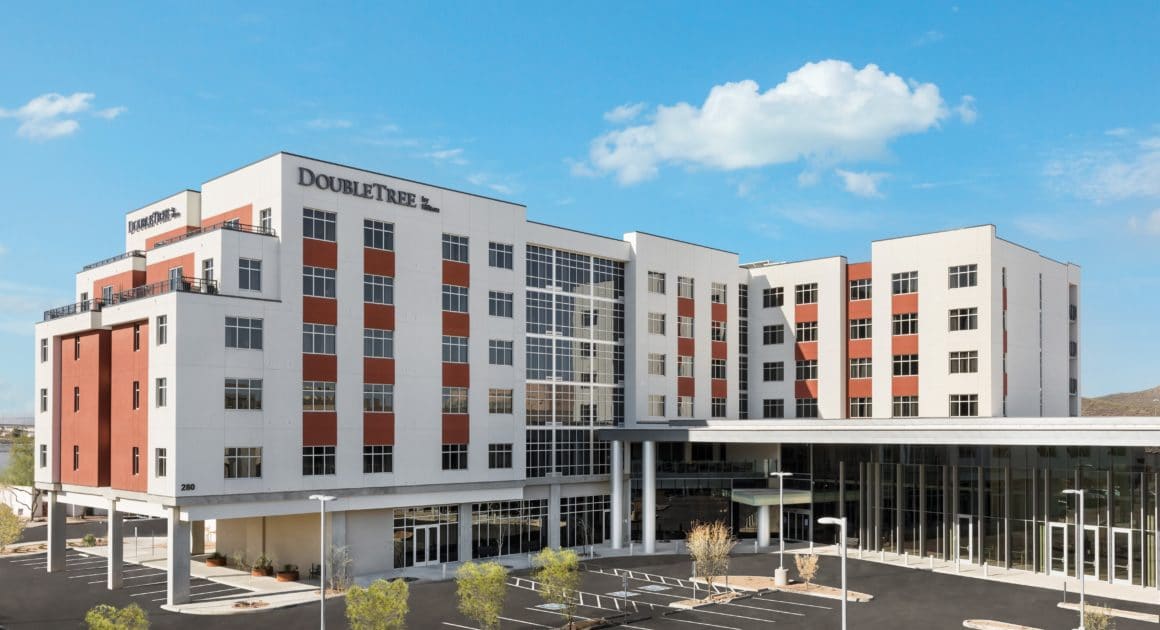 About Caliber
As the Wealth Development Company, we are a leading U.S. sponsor with approximately $500 million in assets under development and management. These investments are comprised of alternative investments, which include private funds and syndications, externally managed real estate investment trusts (REITs) as well as public funds. We conduct substantially all business through our Sponsor, CaliberCos Inc., a vertically integrated platform that is strengthened by more than 70 professionals with decades of institutional experience in commercial real estate, capital markets, alternative investments, and mergers and acquisitions.
We allocate our alternative investment strategies and align them with investors' investment objectives, risk profiles and liquidity preferences to offer an optimal balance of risk-adjusted returns and attractive investment performance. It is because of this thoughtful, intentional approach, and our unwavering pursuit of performance, that we have been deemed The Wealth Development Company.
We strive to build wealth for investors by offering a diverse host of investment solutions that fit our investors' needs. With a primary focus on key middle-market growth areas, such as Arizona, Colorado, Nevada, Texas, Utah and Alaska, we evaluate other U.S. markets that possess the same attractive demographics and macroeconomic trends as our targeted markets, such as highly skilled labor, emerging population and job growth. In addition, we utilize our institutional full-service operating platform to generate operating efficiencies while enhancing the value of our investments through dedicated asset management strategies.
We create value through a combination of internal and external growth channels. Bringing together the benefits of real estate, deep asset-class, and capital markets expertise across public and private investments. We seed, develop, and manage a broad range of liquid and illiquid alternative strategies for a diverse group of investors who comprise approximately a $4 trillion alternative investment market, which includes high net worth, accredited and qualified investors, as well as family offices and smaller institutions. This strategy allows us to opportunistically compete in an evolving middle-market arena for alternative investments that range between $5 million and $50 million.
Click here to see Caliber's current property portfolio.
Contact Caliber at [email protected] to learn more about their investment portfolio.