Scottsdale-based Caliber – The Wealth Development Company has been on the forefront of Opportunity Zones since the Tax Cuts and Jobs Acts passed in 2017. With the July 2018 launch of the Caliber Tax Advantaged Opportunity Zone Fund, LP, the company was among the first in the Southwest Region to offer investors a chance to take advantage of what is considered to be the best capital gains tax reduction programs of a generation.
For its first Opportunity Zone project, Calber is working in partnership with Rio Nuevo to bring a Top-tier Branded hotel to the Tucson Convention Center. The 170-room property will be physically attached to the convention center and include 4,000 square feet of meeting space, a coffee shop and bar, a restaurant and a rooftop pool. Construction is slated to begin in Q1 2019 with a summer 2020 completion date.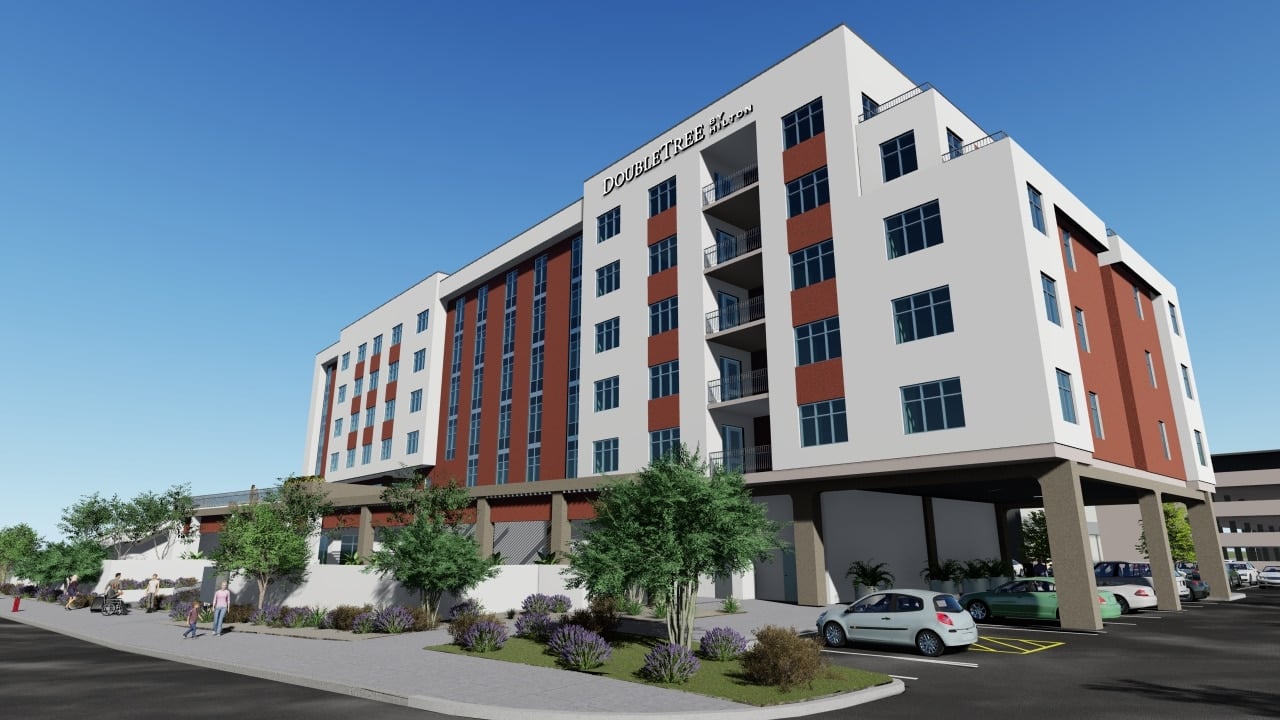 A rendering of Caliber's Tucson Convention Center Hotel
"Caliber has a long history of investing in many of the areas designated as opportunity zones, including the Tucson market," said Chris Loeffler, Caliber Founder and CEO. "A quality hotel property at the convention center is a component of a much larger plan to develop downtown Tucson and we are excited to be a part of the revitalization of the area."
Recently, the IRS issued proposed regulations for Qualified Opportunity Zone Funds (QOF), notably including some flexibility in the 180-day investment timeframe. Originally, capital gain from a sale or exchange of any property, sale of stock, sale of business assets, or other sources of gain could be reinvested in a QOF only within 180 days of the gain being realized. Under the new regulations, investors can choose to defer that window until the end of the taxable year if their gain is generated from ownership of a partnership. This means investors realizing capital gain anytime in 2018 can elect to have the 180-day period start on December 31, giving them until June 2019 to reinvest those funds.
"Many investors with 2018 gains thought they lost this investment option due to the 180-day rule. Now they have the time they need to look at the program, evaluate fund partners like Caliber, and make a decision on participation," said Loeffler.
Caliber provides individual accredited investors and registered investment advisors with well-structured alternatives to traditional investments. In addition to the Tax Advantaged Opportunity Zone Fund, LP., the company builds wealth by forming and managing real estate private equity investments, either through individual assets or multi-asset funds. For details on investment options or to learn more about Caliber, visit CaliberCo.com.
About Caliber
Headquartered in Scottsdale, Ariz., Caliber – The Wealth Development Company is a full-service real estate investment company specializing in commercial, residential, multi-family, self-storage and hospitality properties. Since its inception in 2010, Caliber has acquired more than $350 million in real estate across the southwest with more than $275 million of assets under management. Caliber's investment cycle is managed 100 percent in-house through its five business units: Investment, Construction & Development, Brokerage and Hospitality. Operating under the principles of integrity, responsibility, discipline and transparency, Caliber provides its more than 400 accredited investors with well-managed, diverse, asset-based investment strategies. Learn more at Caliberco.com or follow Caliber on social @CaliberCo.
Note To Investors
This Press Release Is Provided Solely For Information Purposes And Does Not Constitute Legal Or Investment Advice. This Is Neither An Offer To Sell Nor A Solicitation Of An Offer To Buy Securities. While We Endeavor To Keep The Information Up To Date And Correct, We Make No Representations Or Warranties Of Any Kind, Express Or Implied, About The Completeness, Accuracy Or Reliability Of The Data And Summaries Contained In This Press Release Or The Suitability Of Any Separate Offering For Investors. There Are Risks Associated With Any Investment. In Making An Investment Decision, Investors Must Rely On Their Own Examination Of The Company They Wish To Invest In Including The Merits And Risk Involved. Any Forward Looking Statement Speaks Only As Of The Date On Which Such Statement Is Made, And We Undertake No Obligation To Update Any Forward Looking Statement To Reflect Events Or Circumstances After The Date On Which Such Statement Is Made. Please Contact Caliber Directly At 480-295-7600 For Further Information.